A few drinks are okay right?
A couple of beers while you catch up on the day's news or maybe it's a cheeky glass or 3 of wine that you discovered last summer. Neither of these daily habits are anything to worry about right?
Or maybe you don't drink during the week and it's only the odd weekend where you have the family over for a BBQ. You'll probably have a few, but it's not an everyday thing so nothing to worry about right?
We don't like being the bearer of bad news, but just a few, could be a few too many.
How many is too many?
Well that depends on the size of your drink and what you're drinking. And this seems to be where a lot of us get caught out as not all drinks are equal.
Alcohol affects everyone in different ways and it's important to know that drinking is never completely safe.
The Australian Alcohol Guidelines* recommend:
healthy adults should drink no more than 10 standard drinks in a week, and no more than 4 standard drinks on any one day
people under 18, and women who are pregnant, planning a pregnancy, or breastfeeding shouldn't drink any alcohol.
*Australian Guidelines to Reduce Health Risks from Alcohol (NHMRC 2020)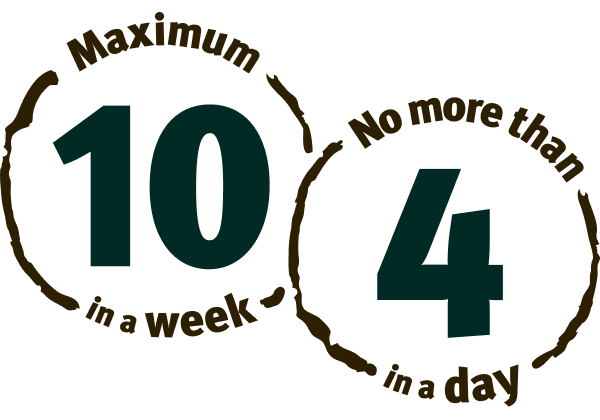 What is a standard drink size?
The easiest way to keep track of how much you're drinking is to count your standard drinks. One standard drink has about 10 grams of pure alcohol. We've got some examples below - these are approximate measures.
Light beer

425ml 2.7% alc/vol

Sparkling wine

100ml 13% alc/vol

Mid-strength beer

375ml 3.5% alc/vol

Full-strength beer

285ml 4.9% alc/vol

Regular cider

285ml 4.9% alc/vol

Pre-mixed spirits

275ml 5% alc/vol

Straight spirits

30ml 40% alc/vol
Watch the campaign videos
Woman on phone to Mum: 'Yeah, I can't wait, Mum…I gotta go'
VO: You might like to treat yourself with a cocktail sometimes
VO: But be honest with yourself
VO: Keep an eye on your drinking
VO: Know how many is too many
VO: Search 'your drinking' for more
VO: Authorised by the QLD Government, Brisbane
VO: You might like a beer or two on occasions
VO: But be honest with yourself
VO: Keep an eye on your drinking
VO: Know how many is too many
VO: Search 'your drinking' for more
Authorised by the QLD Government, Brisbane